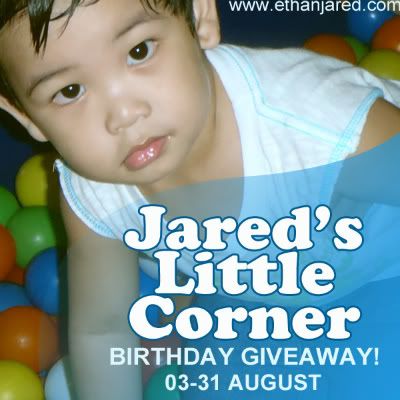 Happy Birthday in advance Jared and congrats on your first year of blogging. I'm happy to be part of your big event in blogsphere as a sponsor. I don't know if sponsors are allowed to joined..lol. . . but I'm still posting this to share my idea on how to have a unique celebration in the big event of your life.
Here's my idea and I hope you and your mum will love it
I'm a young mother of a two year old young man too just like you. Birthday celebration are important for me and I want it to be unique too and memorable.
So here it goes. . . my suggestion . .
To have a unique 2nd birthday event, have a Birthday Card Theme Celebration. In your invitation to your families and friends for your 2nd birthday include in a note that everyone who will attend your birthday party should bring a birthday card with a message for you. It would be nice if they will create one and not the birthday card that can be bought in the bookstore. The best and most creative birthday card will receive a simple present from Jared's mommy.
Simple but unique and fun birthday celebration. You can keep it and read the messages on cards when time comes that you already know how to read.
Credits to the sponsors of
Jared's Little Corner Birthday Giveaway!
Major Sponsors
Minor Sponsors
General Sponsors
like me on
FACEBOOK
- and follow me @
working MAMA